The CRYOPOD™ is the world's first Air cooled Liquid Nitrogen Cryotherapy POD. This means the user never comes into contact with the liquid nitrogen vapours making it one of the safest Cryotherapy PODs on the market. All of our CRYOPODs™ are designed and manufactured in the UK and use the latest technologies to ensure the CRYOPOD™ is at the head of the Cryotherapy sector . Get in touch to talk to one of our UK or US based Sales Managers to understand what CRYOPOD™ can do for you.
The CRYOPOD™ is designed and manufactured in accordance with medical directive standards and up-to-date cryogenic safety standards. Our manufacturing facility is ISO9001 accredited.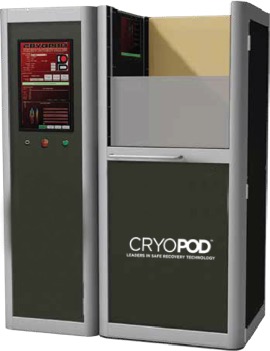 ProCcare software integration. All CRYOPOD™s have CustoRec software ready installed, allowing operators to provide a unique, customised experience for its users.
Bespoke Chassis. Precision engineered using laser cutting techniques.
 Carbon Fibre Panels. The CRYOPOD™ panels are constructed from composite carbon fibre and shaped with the latest state of the art, high pressure water cutting techniques.
Interior Upholstry. Specifically designed to be tolerant to cryogenic temperatures. The panels are machine sewn and hand fitted by master upholsterers.
Touch Screen Control. CRYOPOD™ works in tandem with other tech leading industries, incorporating the very latest technologies into our designs.
Inpod Display Monitoring. The CRYOPOD™ Inpod display presents real time information during cooling sessions, including time expired and Inpod temperature monitors.
A fully equipped Mobile CRYOPOD™ is available for hire. For more details and to check availability please email your requirements including dates, venue, number of potential users and a few words about your organisation or club. We can help you build and equip a Mobile Unit to your own design, giving you flexibility to offer
Whole Body Cryotherapy where you need it.

Through our partner ProCcare, we can provide CustoRec courses to ensure you get the most out of your CRYOPOD™. Learn all about applying Whole Body Cryotherapy in practice via two accredited online courses and reviewed by experts.

The aim of these courses is to give CRYOPOD operators:
an overview of the general working principles and methods.
ability to apply the general guidelines for safe and effective cooling sessions.
develop customized client solutions.
understand physiological principles and research findings.
learn evidence based findings and best-practice solutions.
understand critical environmental and personal factors for maximising safety, effectiveness and standardization.

Rutherford & Titan Installation
For U.S. customers, we work with our partner Rutherford & Titan to install our CRYOPOD™s.
Rutherford & Titan began with a team of cryogenic experts who wanted to close the gap between machine sales and machine repairs. Thus, the idea for this one-stop-shop for all cryotherapy services and support emerged. Their team of trusted Cryo experts provide service across the U.S. with a combined 45 years of experience. Above all, they are proud to be leading in the industry by meeting all your Cryo needs in one spot.
Their national network allows them to execute projects on time and within budget. They deliver a team of Cryo engineers who have completed over 60 piping installs and more than 350 machine installs. As a result, they are fully equipped to help you establish and install your
CRYO
POD
™
.
When purchasing a CRYOPOD™ we can offer a number of services to ensure you are up and running as quickly as possible.

If you want to know how elite athletes recover so quickly, this is your chance to try out one of the best technological aids around for Sports people right now. After trying the Cryopod earlier this year myself, I fully understand why they're part of many top sports stars recovery programme…I felt great!